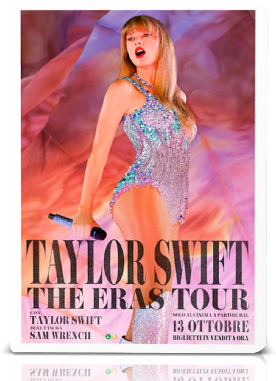 Data di uscita: 13 ottobre 2023
Genere: Documentario, Musicale
Anno: 2023
Regia: Sam Wrench
Attori: Taylor Swift
Paese: USA
Durata: 160 min
Distribuzione: Nexo Digital
Produzione: AMC Theatres
L'EVENTO/CONCERTO CHE TUTTI ASPETTAVAMO...
Taylor Swift: The Eras Tour, film concerto diretto da Sam Wrench, porterà sul grande schermo in tutto il mondo il concerto mozzafiato tenuto durante The Eras Tour dalla cantautrice statunitense. Un'esibizione che è stata un vero e proprio fenomeno culturale, che ha fatto la storia nella carriera di Taylor Swift.
Il film abbraccia i diciassette anni di percorso musicale, che hanno portato la giovane autrice alla ribalta e alla vittoria di diversi premi, fino a consacrarla a icona della musica pop internazionale. Il film concerto, della durata di 160 minuti, permette ai fan e a tutti i spettatori di vivere un'esperienza immersi va, accompagnati dalla voce di Taylor.
Taylor.Swift.The.Eras.Tour.2023.English.New.Audio.MD.CAM.XviD-WRS.avi
FileStore - WorldBytez
Attenzione! Non sei autorizzato a visualizzare questo testo / Solo gli utenti registrati possono visualizzare questo testo!